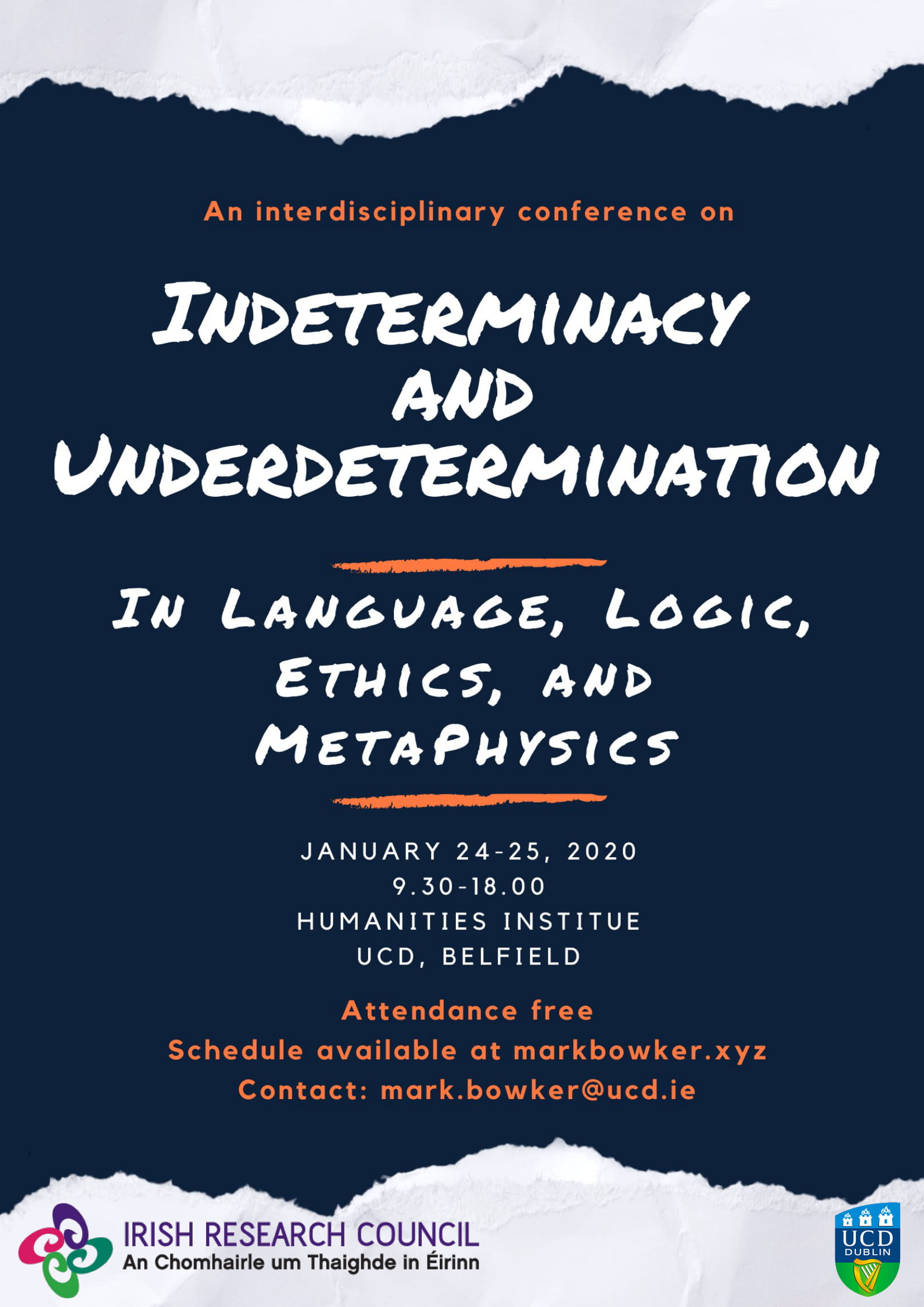 Indeterminacy and Underdetermination at University College Dublin:
Update: 11/09/2020: We are now editing a Topical Collection for Synthese on these topics. Find the Call for Papers here
Schedule now available here. All welcome!
Call for Abstracts:
Conference Theme: Underdetermination and Indeterminacy
Hosted by University College Dublin
***Conference date: 24th and 25th January 2020***
Invited speakers: Elizabeth Harman, Rachel Sterken, Aaron Cotnoir.
PhilEvents: https://philevents.org/event/show/75710
This conference will bring together researchers working on issues related to underdetermination/indeterminacy in various fields. The conference theme should be understood broadly and certainly not limited to issues in philosophy of science. We welcome submissions in ethics, logic, language, metaphysics, epistemology, or any other area of philosophy. The conference aims to shed light on the nature of indeterminacy and underdetermination by showcasing the similarities and differences between manifestations of the phenomena in different areas.
Issues relevant to the conference include (but are not limited to):
Vagueness (in logic, language, epistemology, and beyond)
Language: polyselmy and truth-conditional underdetermination
Logic: Logical pluralism and nihilism
Ethics: Dilemmas
Science: The Duhem/Quine problem and incommensurability
Metaphysics: Race and Gender
Submission: Please send a short abstract (no more than 500 words) to mark.bowker@ucd.ie with subject heading "Abstract Submission".
Deadline for abstracts: October 4th. Notifications of acceptance will be sent within a week of the deadline.
Bursaries: A contribution towards accommodation and subsistence will be available to those who have no funding from their home institutions. Bursaries should be applied for AFTER your abstract has been accepted.
Conference proceedings: We plan to publish a selection of papers in a special issue of a high-ranking journal.
We look forward to your contributions,
Dr Mark Bowker and Prof. Maria Baghramian, conference organisers.